T • C
   ATTENTION : CLEANING REQUIRED !   

This Article may not meet BPWikia's Standards and may contain Outdated or Incorrect Information.
You can help by Cleaning this Article.
Overview
(Photo/Video)
Information
Additional Facts
Gallery
Video
(Video)
Related Pages
Trading Post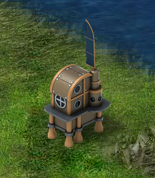 The Trading Post serves as a station in which the player may exchange their 
Coins for
 various forms of assistance, ranging from resource filling and speeding up upgrades to ship building and speeding up research. 
Ad blocker interference detected!
Wikia is a free-to-use site that makes money from advertising. We have a modified experience for viewers using ad blockers

Wikia is not accessible if you've made further modifications. Remove the custom ad blocker rule(s) and the page will load as expected.