Event Overview
"

New Draconian leader Greta Spader is out for blood. Although our intel is limited, we've confirmed she possesses a brilliant military mind and an insatiable appetite for destruction. Construction recently finished on a large vessel capable of releasing, and controlling, waves of drones into open waters to do its evil bidding. You must destroy these ships before the drones can get to you. Join the fight 8/30!

"



 

— Captain Harlock 
A powerful new leader, Greta Spader, is now overseeing Draconian operations.
The Draconians have engineered a new hull, the Typhoon-- a massive vessel designed with the sole purpose of transporting and deploying large numbers of smaller, more agile drone ships to engage in combat.
The armaments on the Typhoon itself are very limited, so Draconian escort fleets have been dispatched to guard the carrier.
Don't get too distracted with drones or escort fleets, your primary target is the Typhoon itself.
Event Information
SCHEDULED EVENT DATES
START TIME
09:00 PST
Depending on the Sector
END TIME
13:00 PST
Depending on the Sector
START DATE
August 30, 2012
Depending on the Sector
END DATE
September 4, 2012
Depending on the Sector
GENERAL EVENT INFORMATION
EVENT TYPE
Attack

Wreak enough havoc on any Typhoon

ANTAGONIST
Draconian
Lead by Greta Spader
DURATION OF EVENT
6 Days
Event Store open additional 48 Hour
Event Prizes
| Prize 1 | Prize 2 | Experience Required |
| --- | --- | --- |
| Cluster Warheads I | Destroyer | 250,000 |
| Cluster Warheads II | Light Cruiser | 750,000 |
| Cluster Warheads III | Battlecruiser | 2,250,000 |
| Sea Scorpion A | Barracuda | 4,500,000 |
| Dreadnought X | N/A | 7,500,000 |
Quotes
"

New intel suggests the new Draconian vessel is capable of launching, and controlling, waves of lethal drones. Prepare your fleets for open water warfare. Will you fight for Forsaken glory?

"



 

— Captain Harlock 
"

We've learned the Draconians are calling their drone-launching vessel the Typhoon. Construction has completed and the new ship class has already begun terrorizing the high seas. Ready your fleets, Captain. The battle begins tomorrow!

"



 

— Captain Harlock 
"

You have Commander Spader's new fleet reeling! Typhoons have been destroyed all over the Map but the Dracs are far from giving up. Keep on fighting, Captain!

"



 

— Captain Harlock 
"

Just 24 hours left to damage all Typhoons in sight. Don't give up now - gun for Spader's fleet and unleash hell. Attack the Dracs and the Dreadnought X could be yours!

"



 

— Captain Harlock 
"

Storm Warning has come to an end. You've wiped Typhoons off the World Map and put an end to Greta Spader's evil tactics. Brilliant work, Captain! Check out the leaderboard to see how you stack up.

"



 

— Captain Harlock 
Gallery
Video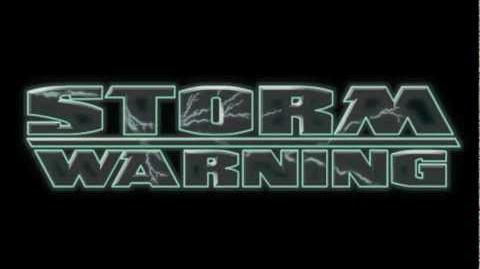 Storm Warning I prizes and quotas
Prize no.
Points needed
Prize 1
choice needed
Prize 2
5
7,500,000
Dreadnought X
n/a
4
4,500,000
Sea Scorpion A
Barracuda
3
2,250,000
Cluster Warheads III
Battlecruiser
2
750,000
Cluster Warheads II
Light Cruiser
1
250,000
Cluster Warheads I
Destroyer
Fleet infos
Typhoon fleet stats

| Level | Fleet made up of: | Resources (total) | Raid points |
| --- | --- | --- | --- |
| 7 | Gunboat x 3 | 59,368 | 964 |
| 10 | Gunboat x 3 | 96,500 | 1,871 |
| 13 | | 158,276 | 2,862 |
| 16 | Skirmisher x 5 | 454,940 | 4,160 |
| 19 | Destroyer x 5 (2 are stacked) | 835,392 | 6,568 |
| 22 | | 1,562,460 | 9,725 |
| 25 | Light Cruiser x 4 (2 are stacked) | *2,622,788 | 19,856 |
| 28 | Battleship x 2, Light Cruiser x 3 | 7,931,520 | 43,606 |
| 31 | Dread/Battleships | | 130,000 |
| 34 | | | 260,000 |
| | | * -> Old data | |
---
HUB
---
REVENGE RAID SERIES
Revenge Raid • Revenge Raid II • Revenge Raid III • Revenge Raid IV
---
BASE INVADERS SERIES
Base Invaders • Base Invaders II • Base Invaders III • Base Invaders IV • Base Invaders V • Base Invaders VI
---
STORM SERIES
Storm Warning • Storm Strike • Storm Force
---
LIGHTNING SERIES
Lightning Run • Lightning Raid • Lightning Fall
---
DRAC HUNT SERIES
Drac Hunt • Drac Hunt 2 • Drac Hunt 3 • Drac Hunt 4
---
DRAGON's SERIES
Dragon's Nest • Dragon's Nest 2 • Dragon's Grip • Dragon's Grip 2
---
FORSAKEN FURY SERIES
Forsaken Fury • Forsaken Fury 2
---
BURNING SEA SERIES - (Reaver Introduction)
Burning Seas • Trial by Fire • Infernal Onslaught • Reign of Fire
---
WARZONE SERIES - (Reaver vs. Dracs)
Riptide • Deathstroke • Tempest • The Reckoning
---
ARCTIC SERIES
Snowblind • Frostbite • Whiteout • Hailstorm • Avalance
---