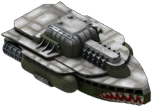 "

Fast and powerful destroyer.

"



 

— In-game Description 
Weapon Slots
5
Armor Slots
1
Special Slots
3
Armor Points
550
Max Weight
2,300
Cargo
195,000
Evade Bonus
0
Combat Speed
14
Turn Speed
20
Map Speed
30 mph
Underwater Weapon
No
Refit-able
Yes
Research
Requirements
Time
8d 18h 56m
Oil
9,594,896
Metal
7,675,917
Energy
7,196,172
Zynthium
8,635,406
Build
Time
22h 30mins
Oil
1,744,526
Metal
1,046,716
Energy
872,263
Zynthium
654,197
Related Pages
Edit
Additional Facts
Edit
The Seawolf is the eighth hull to be researched.
It's described as a "fast and powerful destroyer".
The Seawolf sacrifices armor for high speed, 5 weapon slots, and 3 specials.
It excels at fleet combat and salvaging.
Configured with long-range missiles and Solid Fuel Booster, Seawolf fleets can eliminate any non-elite salvages without taking damage, This is achievable by using the technique known as "kiting". This makes Sea Wolves exceptionally useful when hunting for blueprints or collecting resources.
Ballistic Seawolf fleets deal enough damage to be useful during raids, though their armor is too light to take on high-level targets.
A classic SW killer, long-range missile (using D53 missiles) setup is GS3 or SPD3 with Laser3/SFB3.
Sea Wolves low starting armor points reduces their repair time during raids to less than 5 minutes which makes them "instant repair.
A useful guide for effectively using Sea Wolfs

Ship Weapons: First of all try researching (Unless you already have them unlocked) Cutlass Missiles II at least, later you have to go higher, but when you are low level it isn't yet necessary. Cutlass Missiles are long-range Forsaken penetrating weapons. A good setup consists of 2x Cutlass II's and 3x Cutlass III's.
Ship Specials: Use Solid Fuel Boosters (SFB) II if researched. SFB II are required to take on level 40 Draconian Cargo-fleets to stay out of range whilst still being possible to hit the ships. Also, Engine Upgrade II is required to stay out of the fleet's range. As counter for the accuracy loss caused by Engine Upgrade, use Laser Targetting II to increase the accuracy with 25% (when Engine Upgrade II is used).
Armor: Don't use ANY armor. If you get hit by fleets heavily when wearing armor, you have to wait a deadly long time. Of course, armor is used to stay alive longer, but many armors are heavy and if they aren't, they don't give you enough to stay alive.
(Video)
---
Hub
---
Gunboat • Skirmisher • Longship • Marauder • Predator Submarine • Battle Barge • Arbiter • Leviathan • Sea Wolf • Stalker Submarine • Floating Fortress • Sea Scorpion • Hammerhead
---
Battle Barge A • Leviathan A • Floating Fortress A • Super Fortress • Sea Scorpion A • Hammerhead A • Hammerhead B • Barracuda • Spectre • Mercury • Stingray • Hurricane • Thresher • Mauler • Triton • Goliath • Rampart • Mako • Vanguard • Vindicator • Sawfish
---
Corvette • Frigate • Destroyer • Destroyer X • Destroyer ECM • Light Cruiser • Light Cruiser X • Battlecruiser • Battlecruiser X • Battleship • Juggernaut • Juggernaut X • Strike Cruiser • Strike Cruiser X • Interdictor • Missile Cruiser • Missile Cruiser X • Dreadnought • Dreadnought X • Guardian • Reaper • Nuclear Cruiser
---
---
---
---
Reaver Mothership • Charon • Reaver Defense Hulk • Reaver Scout • Reaver Mothership Drone