T • C
   ATTENTION : CLEANING REQUIRED !   

This Article may not meet BPWikia's Standards and may contain Outdated or Incorrect Information.
You can help by Cleaning this Article.
Overview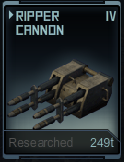 Stats
Focusing more on a sequel to the Thud Cannon, the Ripper Cannon focuses on getting in fast and dealing damage. The range is limited on Ripper Cannons, forcing them to get closer to the enemy to attack. They are described as "twin barrelled rapid fire cannons".
Ripper Cannon Stats
Ripper Cannon
Level I
Level II
Level III
Level IV
Range
43
43
43
43
Damage
122
144
184
234
Building Damage
213
252
322
409
Salvo
3
3
3
3
Accuracy
90%
80%
70%
60%
Reload Time
1.5s
1.5s
1.5s
1.5s
Damage Per Second
73.2
76.8
85.87
93.6
DPS (Buildings)
142
168
214.67
272.67
Type
Ballistic
Ballistic
Ballistic
Ballistic
Weight
18 ton
43 ton
104 ton
249 ton
Research
Research Requirements
Weapon Lab 6
Research Time
2h 23m
7h 10m
21h 30m
10h 59m 40s
Research Oil
62,500
312,000
1,562,000
7,812,500
Research Metal
50,000
200,000
800,000
3,200,000
Research Energy
50,000
200,000
800,000
3,200,000
Research Zynthium
43,750
153,125
535,938
1,875,781
Build
Build Time
14m 20s
43m
2h 9m
5h 8m
Build Oil
10,417
52,083
260,417
1,302,083
Build Metal
8,333
33,333
133,333
533,333
Build Energy
8,333
33,333
133,333
533,333
Build Zynthium
7,292
25,521
89.323
312,630
Information
Additional Facts
Gallery
Video
Related Pages