T • C
   ATTENTION : CLEANING REQUIRED !   

This Article may not meet BPWikia's Standards and may contain Outdated or Incorrect Information.
You can help by Cleaning this Article.
Event Overview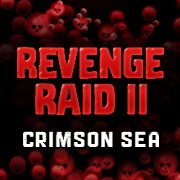 "Pay heed, Captains. Dark forces gather once again. Forsaken Intelligence reports increased activity at multiple Draconian hubs."
- Event Description
We've learned the Draconians will again be redistruibuting massive amounts of resources in Forsaken territory with bigger and better protected Cargo Fleets. Their motivation is unlear at this time, but we must not ignore their re-doubled efforts. Seize as much loot as you can, but be warned, this time the Draconians have prepared with tougher Cargo Fleets.
The Revenge Raid will only last 72 hours for each player, people starting at 10am PST will end at 10am PST on 11/21.
Event Information
SCHEDULED EVENT DATES
START & END TIME
09:00 PST
10:00 PST
Sector 1-100
Sector 100+
START DATE
November 18, 2011
Depending on the Sector
END DATE
November 21, 2011
Depending on the Sector
GENERAL EVENT INFORMATION
EVENT TYPE
Attack
ANTAGONIST
Draconian
DURATION OF EVENT
3 days
Event Store open additional 48 Hour
NUMBER OF STAGES
BONUS XP STAGES
XP PER STAGE
Event Prizes
External Links
---
HUB
---
REVENGE RAID SERIES
Revenge Raid • Revenge Raid II • Revenge Raid III • Revenge Raid IV
---
BASE INVADERS SERIES
Base Invaders • Base Invaders II • Base Invaders III • Base Invaders IV • Base Invaders V • Base Invaders VI
---
STORM SERIES
Storm Warning • Storm Strike • Storm Force
---
LIGHTNING SERIES
Lightning Run • Lightning Raid • Lightning Fall
---
DRAC HUNT SERIES
Drac Hunt • Drac Hunt 2 • Drac Hunt 3 • Drac Hunt 4
---
DRAGON's SERIES
Dragon's Nest • Dragon's Nest 2 • Dragon's Grip • Dragon's Grip 2
---
FORSAKEN FURY SERIES
Forsaken Fury • Forsaken Fury 2
---
BURNING SEA SERIES - (Reaver Introduction)
Burning Seas • Trial by Fire • Infernal Onslaught • Reign of Fire
---
WARZONE SERIES - (Reaver vs. Dracs)
Riptide • Deathstroke • Tempest • The Reckoning
---
ARCTIC SERIES
Snowblind • Frostbite • Whiteout • Hailstorm • Avalance
---
Ad blocker interference detected!
Wikia is a free-to-use site that makes money from advertising. We have a modified experience for viewers using ad blockers

Wikia is not accessible if you've made further modifications. Remove the custom ad blocker rule(s) and the page will load as expected.