T • C
   ATTENTION : CLEANING REQUIRED !   

This Article may not meet BPWikia's Standards and may contain Outdated or Incorrect Information.
You can help by Cleaning this Article.
Overview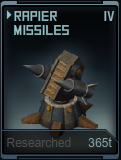 Stats
The second unlocked weapon type, they are simply described as "heat-seeking missiles".
They are the first weapons with a minimum range, meaning the weapon cannot fire at any enemy closer than 30.
Rapiers are of little to no use against typical foes as most players prefer using the Cutlass missiles.
Rapier Missiles Stats
Rapier Missiles
Level I
Level II
Level III
Level IV
Range
30 - 65
30 - 65
30 - 65
30 - 65
Damage
24
60
120
238
Accuracy
100%
80%
66%
50%
Reload Time
3.0s
4.0s
5.0s
6.0s
Damage Per Second
8.0
12.0
15.84
19.83
DPS (Buildings)
8.0
15.0
24.0
39.67
Type
Penetrating
Penetrating
Penetrating
Penetrating
Weight
30 ton
69 ton
159 ton
365 ton
Research
Research Requirements
Weapon Lab ?
Weapon Lab ?
Weapon Lab ?
Weapon Lab 4
Research Time
-
1h 41m
5h 03m
Research Oil
-
275,000
1,375,000
Research Metal
-
140,800
563,200
Research Energy
-
140,800
563,200
Research Zynthium
-
94,325
330,138
Build
Build Time
51s
3m 22s
10m 6s
30m 18s
Build Oil
2,200
11,000
55,000
275,000
Build Metal
1,760
7,040
28,160
112,640
Build Energy
1,760
7,040

28,160

112,640

Build Zynthium
1,540
5,390
18,865
66,028
Information
Additional Facts
Gallery
Video
Related Pages