T • C
   ATTENTION : CLEANING REQUIRED !   

This Article may not meet BPWikia's Standards and may contain Outdated or Incorrect Information.
You can help by Cleaning this Article.
Overview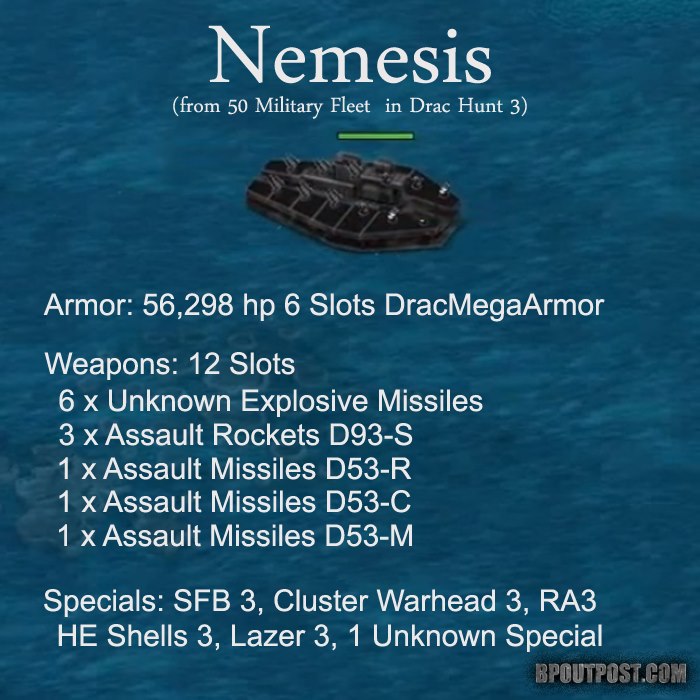 Stats
Information
The Nemesis is an advanced Draconian unobtainable ship. With an estimate of 12 weapon slots, 6 armour slots and 6 special slots, this ship is now one of the defenders of the Draconian bases. After detailed analysis, it is estimated that there are six unknow explosive missles, three assult rockets D93-S, one Assult Missle D53-R, one Assault Missile D53-C and one Assault Missile D53-M. It has more than five fifty two thousand and two hundred ninety four armor points, and comes with Solid Fuel Booster III, Cluster Warhead III, Reactive Amour III, High Explosive Shells III, Laser Targeting III and one unknown special. It was first seen in Drac Hunt 1, and continued its appearance until it was assigned as a guard in the Draconian Bases. It also appeared in Dragon's Grip. Even though this hull is not obtainable, it's "elder brother", the Proto-Nemesis, is currently obtainable by hitting Draconian Bases.
Additional Facts
The Nemesis made its return in Dragon's Grip. They now act as a guard in Draconian Bases.
Gallery
Video
Related Pages
---
HUB
---
Gunboat • Skirmisher • Longship • Marauder • Predator Submarine • Battle Barge • Arbiter • Leviathan •
Sea Wolf • Stalker Submarine • Sea Scorpion • Floating Fortress • Hammerhead
---
Battle Barge A • Leviathan A • Sea Scorpion A • Floating Fortress A • Hammerhead A • Hammerhead B • Barracuda • Goliath • Spectre • Super Fortress • Hurricane • Triton • Harlock's Triton • Thresher • Mercury • Stingray • Zoe's Stingray • Mauler • Vanguard • Mako • Rampart • Vindicator • Sawfish • Atlas Carrier • Harlock's Atlas Carrier • Lightning Carrier • Nash's Lightning Carrier • Avenger
---
Corvette • Frigate • Destroyer • Destroyer X • Destroyer ECM • Light Cruiser • Light Cruiser X • Battlecruiser • Battlecruiser X • Battleship • Juggernaut • Juggernaut X • Strike Cruiser • Strike Cruiser X • Missile Cruiser • Missile Cruiser X • Interdictor • Vassago's Interdictor • Viper Interdictor • Dreadnought • Dreadnought X • Spader's DNX • Reaper • Guardian • Nuclear Cruiser • High-Lander's Nuclear Cruiser • Greta's Nuclear Cruiser • Enforcer • Nighthawk • Phantom Nighthawk
---
---
Typhoon • Nemesis
---
Hellstrike • Berserker • Grimshine's Berserker
---
Reaver Mothership • Reaver Defense Hulk • Reaver Scout • Reaver Mothership Drone •
Charon • Elite Salvage • Rad Shockwave
Ad blocker interference detected!
Wikia is a free-to-use site that makes money from advertising. We have a modified experience for viewers using ad blockers

Wikia is not accessible if you've made further modifications. Remove the custom ad blocker rule(s) and the page will load as expected.