T • C
   ATTENTION : CLEANING REQUIRED !   

This Article may not meet BPWikia's Standards and may contain Outdated or Incorrect Information.
You can help by Cleaning this Article.
---
Overview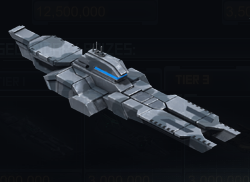 "

The specialized Draconian Missile Cruiser, built to hit and run with a precise high volume missile barrage..

"



 

— Battle Pirates 
Stats
Version
MC
Weapon Slots
6
Armor Slots
4
Armor Points
1,520
Special Slots
3
Max Weight
7,246
Cargo
827,224
Evade Bonus
0%
Combat Speed
10
Turn Speed
9
Map Speed
22
Ballistic Defense
+20%
Explosive Defense
+20%
Missile Defense
+40%
Penetrating Reload
+39%
Retargeting
False
Underwater Weapon
No
Refit-able
Yes
Build
Time
4d 1h 12m 00s
Oil
7,031,250
Metal
5,625,000
Energy
5,625,00
Zynthium
14,062,500
Information
The Missile Cruiser and Missile Cruiser X were the top prizes during the event Lightning Raid. It took 6 million points trade-in for the Missile Cruiser to be acquired and 4.5 million points for the Missile Cruiser X. The MCX was also a bonus prize for players killing all 50 Drac Military fleets in the Drac Hunt 3 Raid twice, April 2013.
Both versions come with a penetrating reload bonus (missiles fire faster): +39% for the MC and +65% for the MCX.  In addition, the MCX's missiles are retargetable and it has a +30% Flak Evade bonus (missile's are harder for flaks to shoot down).
Additional Facts
Gallery
Video
Related Pages
---
---
---
---
---
---
---
---
Ad blocker interference detected!
Wikia is a free-to-use site that makes money from advertising. We have a modified experience for viewers using ad blockers

Wikia is not accessible if you've made further modifications. Remove the custom ad blocker rule(s) and the page will load as expected.