Overview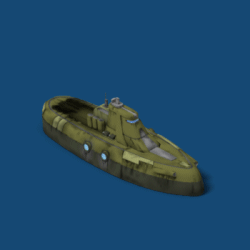 "

Highly mechanized frigate.

"



 

— In-game Description 
Stats
Weapon Slots
2
Armor Slots
2
Special Slots
1
Armor Points
72
Max Weight
216 tons
Cargo
7,871 tons
Evade Bonus
20%
Combat Speed
16
Turn Speed
36
Map Speed
37 mph
Underwater Weapons
Yes
Refit-able
No
Research
Requirements
Naval Lab 2
Time
33m
Oil
40,602
Metal
32,482
Energy
30,451
Zynthium
36,542
Build
Time
50m 00s
Oil
7,382
Metal
4,429
Energy
3,691
Zynthium
2,768
Related Pages
Additional Facts
The Longship hull is the second hull a player may research, and is described as a "highly mechanized frigate".
The Longship is the first hull to have more than one Weapon Slot and one Armor Slot, and also the first one to have Special Slots.
Longship fleets excel at low level salvaging.
Longships outmaneuver all non-elite salvage fleets and easily outrun mortar fire; Engine 1 is a popular special.
They have a powerful, long-range weapon option in Havok Torpedo 3.
Gallery
Video
(Video) ----
HUB
---
Gunboat • Skirmisher • Longship • Marauder • Predator Submarine • Battle Barge • Arbiter • Leviathan •
Sea Wolf • Stalker Submarine • Sea Scorpion • Floating Fortress • Hammerhead
---
Battle Barge A • Leviathan A • Sea Scorpion A • Floating Fortress A • Hammerhead A • Hammerhead B • Barracuda • Goliath • Spectre • Super Fortress • Hurricane • Triton • Harlock's Triton • Thresher • Mercury • Stingray • Zoe's Stingray • Mauler • Vanguard • Mako • Rampart • Vindicator • Sawfish • Atlas Carrier • Harlock's Atlas Carrier • Lightning Carrier • Nash's Lightning Carrier • Avenger
---
Corvette • Frigate • Destroyer • Destroyer X • Destroyer ECM • Light Cruiser • Light Cruiser X • Battlecruiser • Battlecruiser X • Battleship • Juggernaut • Juggernaut X • Strike Cruiser • Strike Cruiser X • Missile Cruiser • Missile Cruiser X • Interdictor • Vassago's Interdictor • Viper Interdictor • Dreadnought • Dreadnought X • Spader's DNX • Reaper • Guardian • Nuclear Cruiser • High-Lander's Nuclear Cruiser • Greta's Nuclear Cruiser • Enforcer • Nighthawk • Phantom Nighthawk
---
---
---
Hellstrike • Berserker • Grimshine's Berserker
---
Reaver Mothership • Reaver Defense Hulk • Reaver Scout • Reaver Mothership Drone •
Charon • Elite Salvage • Rad Shockwave