T • C
   ATTENTION : CLEANING REQUIRED !   

This Article may not meet BPWikia's Standards and may contain Outdated or Incorrect Information.
You can help by Cleaning this Article.
Event Overview
"

We've got enemy fleets on the ropes! Another strong intel raid on Draconian Operations Hubs and Spader's run could be history. Past raid hulls will be available to help your campaign - the harder you fight, the more you'll win! The battle begins December 12th - can we count on you, Captain?

"



 

— Captain Harlock 
Event Information
SCHEDULED EVENT DATES
START TIME
??? PST
Depending on the Sector
END TIME
??? PST
Depending on the Sector
START DATE
December 12, 2012
Depending on the Sector
END DATE
December 16, 2012
Depending on the Sector
GENERAL EVENT INFORMATION
EVENT TYPE
Attack

Attack Ops Hubs

ANTAGONIST
Draconian
Lead by Greta Spader
DURATION OF EVENT
5 Days
Event Store open additional 48 Hour
Event Prizes
Two of the top prizes are the Missile Cruiser (MC) and Missile Cruiser X. The Missile Cruiser has a +39% penetrative reload, +20% ballistic and explosive defense, +40% missile defense and more.
The Missile Cruiser X is the evolved version of the Missile Cruiser and has even better stats. Other Prizes: Goliath, Light Cruiser, Battlecruiser, Battleship, Interdictor, Strike Cruiser, Spectre, and many, many more!
In this raid you need to get the points to redeem MC, then redeem the D55F siege missile, which has flak evasion ability, and lastly get the MCX.
Related Links
Quotes
"

It's time to take matters into our own hands! Another strong intel raid on Drac Operations Hubs and the battle could be ours. We're launching December 12th - are you in or out?

"



 

— Captain Harlock 
"

Draconian fleets protecting Operation Hubs are sure to have heavy armor during Lightning Raid. Be sure to make use of the all-new Armor Bypass Tactical Module and find their weak points! Research it now!

"



 

— Captain Harlock 
"

Are you planning on using the new Siege Scanner Tactical Module during next week's Lightning Raid? What is your go to fleet combination?

"



 

— Captain Harlock 
"

After one more brutal intel raid on Operations Hubs, we'll have the Dracs right where we want them! Remember, the Forsaken Assembly has made past raid hulls available to help you prepare for battle - the harder you fight, the more you'll win. December 12th is fast approaching - can we count on you?

"



 

— Captain Harlock 
"

Only one day until launch! Remember Captain, during Lightning Raid you can cash in your Damage Points to earn hulls from previous events. Now's your chance to win all the elusive hulls you missed from earlier this year. Get some sleep, the fight begins tomorrow.

"



 

— Captain Harlock 
"

The time has come! Fight through Draconian resistance and gather intel from all Operations Hubs on the high seas. Be careful - guard waves will be close behind. Watch this video walk through to find out the full details on Lightning Raid and the all prizes you can win. Good luck, Captain!

"



 

— Captain Harlock 
"

The Forsaken Lightning Raid is in full swing, Captains! Points earned from hitting Op Hubs have been increased to help you get your hands on the new event prizes.

"



 

— Captain Harlock 
"

ALERT: There have been reports of Typhoon activity all over the world map. It seems Commander Spader has launched Typhoon fleets in order to halt the Forsaken offensive. Lock and load, Captains!

"



 

— Captain Harlock 
"

Have you won the top prizes in Lightning Raid?

"



 

— Captain Harlock 
"

Quote 1

"



 

— Captain Harlock 
Fun Facts
Gallery
Video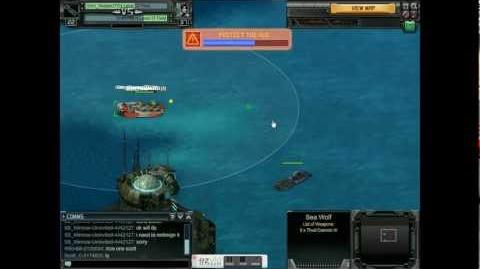 ---
HUB
---
REVENGE RAID SERIES
Revenge Raid • Revenge Raid II • Revenge Raid III • Revenge Raid IV
---
BASE INVADERS SERIES
Base Invaders • Base Invaders II • Base Invaders III • Base Invaders IV • Base Invaders V • Base Invaders VI
---
STORM SERIES
Storm Warning • Storm Strike • Storm Force
---
LIGHTNING SERIES
Lightning Run • Lightning Raid • Lightning Fall
---
DRAC HUNT SERIES
Drac Hunt • Drac Hunt 2 • Drac Hunt 3 • Drac Hunt 4
---
DRAGON's SERIES
Dragon's Nest • Dragon's Nest 2 • Dragon's Grip • Dragon's Grip 2
---
FORSAKEN FURY SERIES
Forsaken Fury • Forsaken Fury 2
---
BURNING SEA SERIES - (Reaver Introduction)
Burning Seas • Trial by Fire • Infernal Onslaught • Reign of Fire
---
WARZONE SERIES - (Reaver vs. Dracs)
Riptide • Deathstroke • Tempest • The Reckoning
---
ARCTIC SERIES
Snowblind • Frostbite • Whiteout • Hailstorm • Avalance
---
Ad blocker interference detected!
Wikia is a free-to-use site that makes money from advertising. We have a modified experience for viewers using ad blockers

Wikia is not accessible if you've made further modifications. Remove the custom ad blocker rule(s) and the page will load as expected.