T • C
   ATTENTION : CLEANING REQUIRED !   

This Article may not meet BPWikia's Standards and may contain Outdated or Incorrect Information.
You can help by Cleaning this Article.
Event Overview
"

The recent formation of Alliances has lead to a more unified and structured Forsaken force. With this recent change, it's finally time to exact your revenge on Commander Spader. One more brutal attack on Draconian Ops Hubs should end her reign of terror once and for all. Will you be ready 1/23?

"



 

— Captain Harlock 
Greetings Captains,
The Forsaken have recovered all the valuable intel they need and now it's time to launch the final assault on the remaining Operations Hubs. The Dracs are going to throw everything they've got, so stay sharp Captains!
Mission Objectives
Destroy the Operations Hubs.
Raze the Operations Hubs.
Sink the defensive Guard Fleet.
Alert: Juggernaut class warships will be calling for reinforcements.
Keep an eye on the transmission progress and sink the Juggernaut before the call can be made.
Destroy any Typhoon Fleets that get in your way.
Blueprint Drop Bonus
For each day a player participates in Lightning Raid and engages an Operations Hub, they will gain a bonus to their Blueprint drop rate that will stack with each day.
The bonus will be effective during the event and for five days after.
Daily multiplier will stack with each additional day.
Days DO NOT have to be consecutive.
Bonus persists for 5 days after the event ends.
Bonus will be 10% each day with a maximum of 50%. Good luck, Captain!
Event Information
SCHEDULED EVENT DATES
START TIME
??:?? PST
Depending on the Sector
END TIME
??:?? PST
Depending on the Sector
START DATE
January 23, 2013
Depending on the Sector
END DATE
? ?, ?
Depending on the Sector
GENERAL EVENT INFORMATION
EVENT TYPE
Attack

Attack Drac Op Hubs

ANTAGONIST
Draconian
Lead by Greta Spader
DURATION OF EVENT
total day of event
Event Store open additional 48 Hour
Event Prizes
Hurricane (The Hurricane is a new ship created by the Forsaken that incorporates drone technology from the Draconian Typhoon. With the ability to deploy twice the number of drones per wave, the Hurricane can turn the tide of any open water battle.)
Blitz Drone Module (The Blitz Drone Module is a new Tactical Module that will give any ship with a Tactical slot the ability to deploy offensive drone units with ballistic cannons. Drone Modules will have a bar for Drone capacity that will deplete as the drones are launched. Undamaged drones will be recovered at the end of combat, and the Drone Capacity bar can be replenished by repairing. Be on the lookout for more Drone technology!)
Related Links
Quotes
"

The recent formation of Alliances has lead to a more unified and structured Forsaken force. The Dracs are right where you want them, Captain. Commander Spader's final showdown begins in seven days - are you in or out?

"



 

— Captain Harlock 
"

How many of Spader's Typhoons did you sink during Lightning Fall?

"



 

— Captain Harlock 
Fun Facts
Points will be awarded for damage dealt to the Operations Hubs and defensive fleets. Points can also be earned by dealing damage to Typhoon Fleets. There will be no level limit restrictions for this event.
Gallery
Video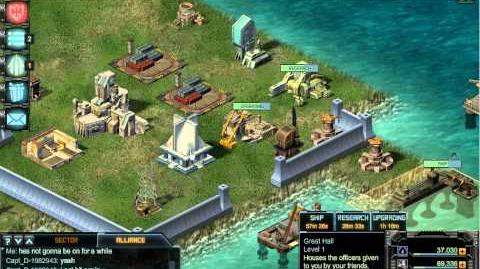 ---
HUB
---
REVENGE RAID SERIES
Revenge Raid • Revenge Raid II • Revenge Raid III • Revenge Raid IV
---
BASE INVADERS SERIES
Base Invaders • Base Invaders II • Base Invaders III • Base Invaders IV • Base Invaders V • Base Invaders VI
---
STORM SERIES
Storm Warning • Storm Strike • Storm Force
---
LIGHTNING SERIES
Lightning Run • Lightning Raid • Lightning Fall
---
DRAC HUNT SERIES
Drac Hunt • Drac Hunt 2 • Drac Hunt 3 • Drac Hunt 4
---
DRAGON's SERIES
Dragon's Nest • Dragon's Nest 2 • Dragon's Grip • Dragon's Grip 2
---
FORSAKEN FURY SERIES
Forsaken Fury • Forsaken Fury 2
---
BURNING SEA SERIES - (Reaver Introduction)
Burning Seas • Trial by Fire • Infernal Onslaught • Reign of Fire
---
WARZONE SERIES - (Reaver vs. Dracs)
Riptide • Deathstroke • Tempest • The Reckoning
---
ARCTIC SERIES
Snowblind • Frostbite • Whiteout • Hailstorm • Avalance
---