Overview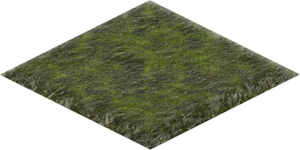 "

Terrain allows players to expand their base.

"



 

— In-game Description 
Building Progression
| Outpost Level | Landfill (Squares) |
| --- | --- |
| 1 | 40 |
| 2 | 51 |
| 3 | 62 |
| 4 | 73 |
| 5 | 85 |
| 6 | 90 |
Information
Terrain refers to land (green squares) used to create the template for your base.
Landfill is placed over water to support buildings.

By clicking build then terrain, you can choose from the following 3 land options:
By single clicking you can place your land and then select another option.
By holding shift and then clicking you can place that land and have the same option ready to place again.
To remove terain you place water where the land is.
This returns the land to your stockpile and adds water.
As with land, the following water options are available:
Additional Facts
The oil rig, shipyard, dock, tactical lab & retrofit lab are placed on water.
Gallery
Video
(Video)
Related Pages
Ad blocker interference detected!
Wikia is a free-to-use site that makes money from advertising. We have a modified experience for viewers using ad blockers

Wikia is not accessible if you've made further modifications. Remove the custom ad blocker rule(s) and the page will load as expected.