T • C
   ATTENTION : CLEANING REQUIRED !   

This Article may not meet BPWikia's Standards and may contain Outdated or Incorrect Information.
You can help by Cleaning this Article.
Overview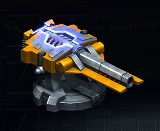 "

Long range ballistic defense cannon that propels shells with high-speed electromagnetic rails. The incredible velocity of its shells will penetrate targets like a missile.

"



 

— In-game Description 
Stats
Javelin
Stats
Range
82-149
Damage
1,620
Missile Damage
324
Reload Time
12
Accuracy
100%
D / RT
135 + 27 (Penetrating)
Type
Ballistic
Research
Raid Prize
Build
Pre required researches to build
Unknown
Build Time
9d 21h 36m
Build Oil
20,955,682
Build Metal
16,764,546
Build Energy
16,764,546
Build Zynthium
31,090,612
Information
This Base Weapon requires a blueprint to build. First released during the Drac Hunt 3 raid in April 2013. Players required tier 5 to achieve this monster of base defences.
It is a slow shooting very long range, upgraded version of the Howitzer. The Rail Gun is a slow firing cannon that uses charged particles to shoot projectiles at high speed towards invading ships. With super high range and damage but slow reload times, this could be just the weapon to defend against those annoying fleets. Capable of inflicting damage across almost the entire base area, this weapon can sit safely in the middle of a base -- combined with Depleted Uranium shells, it makes a lethal (and unavoidable????) guardian to your front door.
Additional Facts
Gallery
Video
(Video)
Related Pages
---
Hub
---
Research
Howitzer Cannon • Sentinel Missiles • Flak Gun • Bombard Rockets • Victory Mortar • Cerberus Rockets
---
Blueprint
Javelin Rail Gun • Disruptor Cannon • Vulture Missiles • Meteor Mortar
Arc Missiles • Halo Missile • Brimstone Missile • Napalm Missile • Wendigo Turret
---
Ad blocker interference detected!
Wikia is a free-to-use site that makes money from advertising. We have a modified experience for viewers using ad blockers

Wikia is not accessible if you've made further modifications. Remove the custom ad blocker rule(s) and the page will load as expected.