T • C
   ATTENTION : CLEANING REQUIRED !   

This Article may not meet BPWikia's Standards and may contain Outdated or Incorrect Information.
You can help by Cleaning this Article.
Overview
"

Reaver rockets that cause damaged ships to detonate on destruction and deal damage to their allies.

"



 

— In-game Description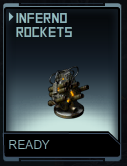 Stats
Tech
Reaver
Ships destoyed will detonate. (Drones Excluded)
Splash
18
Spread
60
Range
59
Damage
180
Building Damage
251
Reload Time
0.75
D / RT
240
D / RT (Building)
334.67
Type
Explosive
Weight
1,442
Armor Points
400
Ballistic Defense:
+5%
Explosive Defense:
+5%
Missile Defense:
+5%
Build
| | |
| --- | --- |
| Oil | |
| Metal | |
| Energy | |
| Zynthium | |
| Time | |
| Time With Officer | |
Information
This looted Reaver Rocket is a new weapon that can be outfitted to rocket base fleets.
Infused with Reaver Technology this new rocket allows its payload to delivered at range, while also boosting the defensive values of hulls that are equipped with them.
Additionally the Reaver technology in this weapon cause targets that are destroyed by it to EXPLODE!

this effect excludes drones destroyed.

These explosions will damage surrounding enemy ships.
This rocket has the joint highest range (shared with Maelstrom V)
Additional Facts
This blueprint was introduced as a Tier 5 prize in the Burning Seas Raid. It was rewarded to players trading in 3.5M points for it.
Gallery
Video
Related Pages
Ad blocker interference detected!
Wikia is a free-to-use site that makes money from advertising. We have a modified experience for viewers using ad blockers

Wikia is not accessible if you've made further modifications. Remove the custom ad blocker rule(s) and the page will load as expected.