T • C
   ATTENTION : CLEANING REQUIRED !   

This Article may not meet BPWikia's Standards and may contain Outdated or Incorrect Information.
You can help by Cleaning this Article.
Overview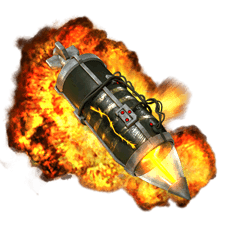 "

Reaver modified explosive shells that increase splash and will sometimes ignite target areas with Radioactive flame.

"



 

— In-Game Description 
Stats
Tech
Reaver
Mortars may create Fire Fields.
Fire Field Chance
10%
Weapon Weight
+14%
Splash
+50%
Field of Effect:
Type
Hostile
Range
24
Radioactive Damage
150 / sec
Build
| | |
| --- | --- |
| Oil | 10,013,503 |
| Metal | 7,343,236 |
| Energy | 8,344,586, |
| Zynthium | 7,677,019 |
| Time | 1d 15h 35m 34s |
| Time With Officer | 1d 11h 38m |
Information
This piece of looted Reaver technology will modify your explosive weapons and improve their splash radius. Additionally, when used with Mortar weapon types it will give those weapons a chance to ignite the target area with Radioactive flame.
Additional Facts
This blueprint was first introduced as a Prize in Forsaken Missions (5/28/14).
Gallery
Video
Related Pages
Ad blocker interference detected!
Wikia is a free-to-use site that makes money from advertising. We have a modified experience for viewers using ad blockers

Wikia is not accessible if you've made further modifications. Remove the custom ad blocker rule(s) and the page will load as expected.