T • C
   ATTENTION : CLEANING REQUIRED !   

This Article may not meet BPWikia's Standards and may contain Outdated or Incorrect Information.
You can help by Cleaning this Article.
Overview
"

Insert text here, without quotes.

"



 

— In-game Description 
Quotes
Bug Fixes
Information
Kixeye've also updated the Settings menu to give you greater management over General Settings, Visual Effects, and Alerts, and launched a new Controls panel that covers the standard controls for your fleets' in combat.
The settings will automatically adjust based on your systems performance.
If a setting causes the game to perform poorly, it will automatically default to off, even if you've set it to On.
Interface Features
General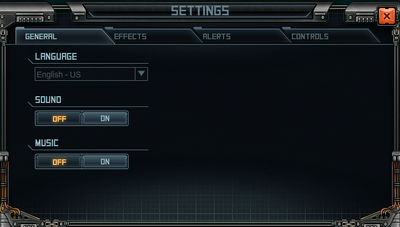 Language - English - US
Sound - OFF/ON
Music - OFF/ON
Effects
Clouds - OFF/ON
Projectile Explosions - OFF/ON
Particle Effects - OFF/ON
Ship Wakes - OFF/ON
Building Smoke - OFF/ON
Alerts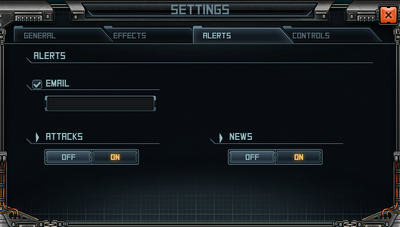 Email - Insert your email.
Attacks - OFF/ON
News - OFF/ON
This Alerts section also take places the menu or can be found in the Radio Tower .
Controls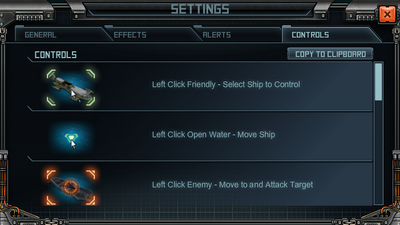 Left Click Friendly - Select Ship to Control
Left Click Open Water - Move Ship
Left Click Enemy - Move to and Attack Target
Additional Facts
Animated Photo
Gallery
Video
Related Pages
Ad blocker interference detected!
Wikia is a free-to-use site that makes money from advertising. We have a modified experience for viewers using ad blockers

Wikia is not accessible if you've made further modifications. Remove the custom ad blocker rule(s) and the page will load as expected.