T • C
   ATTENTION : CLEANING REQUIRED !   

This Article may not meet BPWikia's Standards and may contain Outdated or Incorrect Information.
You can help by Cleaning this Article.
Overview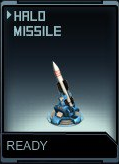 Stats
Halo Missile Stats
Halo Missile
Stats
Range
40-130
Damage
900
Explosive Damage
297
Splash
28
Spread
70
Reload Time
12
Salvo
1
D / RT

75 + 24.75 (Explosive)

Type
Penetrating
Research
Raid Prize
Build
Pre required researches to build
None
Build Time
9d
Build Oil
19,050,620
Build Metal
15,240,496
Build Energy
15,240,496
Build Zynthium
30,480,992
Information
Long Range defense missile that splits into multiple warheads to blanket an area with splash damage. This Base Weapon requires a blueprint to build.
Compared to the VM 4 it has superior minimal and maximal range and splash radius . The drawback compared to the VM4 is that the Halo has somewhat worse spread (even though the splash highly compensates for this) and worse D/RT (if we don't count resistances).
Phalanx anti-missile can shoot down some of the Halo warheads before they land.
Additional Facts
Gallery
Video
(Video)
Related Pages
---
Hub
---
Research
Howitzer Cannon • Sentinel Missiles • Flak Gun • Bombard Rockets • Victory Mortar • Cerberus Rockets
---
Blueprint
Javelin Rail Gun • Disruptor Cannon • Vulture Missiles • Meteor Mortar
Arc Missiles • Halo Missile • Brimstone Missile • Napalm Missile • Wendigo Turret
---
Ad blocker interference detected!
Wikia is a free-to-use site that makes money from advertising. We have a modified experience for viewers using ad blockers

Wikia is not accessible if you've made further modifications. Remove the custom ad blocker rule(s) and the page will load as expected.