T • C
   ATTENTION : CLEANING REQUIRED !   

This Article may not meet BPWikia's Standards and may contain Outdated or Incorrect Information.
You can help by Cleaning this Article.
Overview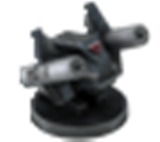 "

Anti-mortar defence weapon used to shoot down incoming enemy mortar rounds before they strike.

"



 

— In-game Description 
Stats
Anti-Explosive
Level
A
B
C
Range
28
28
28
Salvo
3
4
5
Reload Time
5
5
5
Accuracy
25%
25%
25%
Explosive Defense
0%
5%
10%
Weight
120 Tons
240 Tons
480 Tons
Build
Oil
150,000
450,000
1,350,000
Metal
120,000
360,000
1,080,000
Energy
120,000
360,000
1,080,000
Zynthium
300,000
900,000
2,700,000
Time
2h 21m 40s
4h 43m 20s
9h 26m 40s
Time
2h 7m 30s
4h 15m
8h 30m
Information
While it says "anti-explosive", it has no effect on rockets like Hydra Rockets
Anti-Mortars will keep firing at each incoming mortar until it is destroyed
Additional Facts
Gallery
Video
Related Pages
Ad blocker interference detected!
Wikia is a free-to-use site that makes money from advertising. We have a modified experience for viewers using ad blockers

Wikia is not accessible if you've made further modifications. Remove the custom ad blocker rule(s) and the page will load as expected.