T • C
   ATTENTION : CLEANING REQUIRED !   

This Article may not meet BPWikia's Standards and may contain Outdated or Incorrect Information.
You can help by Cleaning this Article.
Overview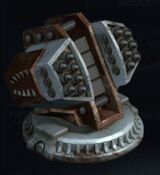 "

Short-range base defense Depth Charge Turret that deals concussive damage to surface and submerged targets.

"



 

— In-game Description 
Stats
Gargoyle IV

Stats

Range

64

Damage

7,776

Submerged Damage

7,776

Reload Time

6.0

Accuracy

100%

Splash

18

Salvos

6

D / RT

1296 DPS

Type

Concussive

Research

Mission Prize

Build

Pre required researches to build

Unknown

Build Time

23 hours

Build Oil

Build Metal

Build Energy

Build Zynthium
Information
This Base Weapon requires a blueprint to build. First released during Forsaken Mission in August 2014. Players required tier 4 to achieve it.
This short range base defense Depth Charge Turret is excellent. Boasting improved damage over a Cerb IV, this turret also has the capability to hit submerged subs and terminate them with extreme prejudice when they are detected and within range. Arguably as well this is a better turret weapon than the new Cerb V.
Additional Facts
On the 31st of October 2014, Gargoyle projectiles can track enemy ships with an accurate value of 100% instead of having a random spread.
Gallery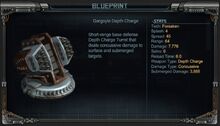 Video
(Video)
Related Pages
Ad blocker interference detected!
Wikia is a free-to-use site that makes money from advertising. We have a modified experience for viewers using ad blockers

Wikia is not accessible if you've made further modifications. Remove the custom ad blocker rule(s) and the page will load as expected.