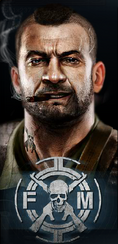 Forsaken Missions
Edit
In Battle Pirates there is now a weekly(as they hinted at) event called the "Forsaken Missions." The main, and only, objective is to attack and destroy Draconian Outposts and their guarding fleets. The mission itself is like Base Invaders, with Draconian Outposts (and/or Typhoons) to be attacked. Restarts Every Monday at 9PM 
Points allocation
Edit
OP
Level
spawns
near
Defense/Ships
Defense/Bases

Resources won
per type/total

Estimated points*
4

3 Corvette

1 base:
- 1 missile turret


Centre: - Undefended

10 000 /  40 000

Fleet:  


Total: 1 335

8
3 Corvette

1 base of:
- 1 missile turret
- 1 Howitzer

Centre:
- 1 missile turret

Total: 33 000 / 133 600

Fleet:  


Total: 1 842

12
4 Corvette

1 base of:
- 1 missile turret
- 1 Howitzer

Centre:
- 1 missile turret

73 000 / 289 000

Fleet:  


Total: 2 916

16
4 Destroyer

2 bases of:
- 1 missile turret
- 1 Howitzer

Centre:
- 1 missile turret
- 1 Howitzer

133 000 /  532 000

Fleet: 


Total: 5 155

20
4 Destroyer

2 bases of:
- 2 missile turret
- 1 Howitzer

Centre:
- 1 missile turret
- 1 Howitzer

360 000 / 1 441 226

Fleet: 


Total: 5 439

25
4 Light Cruiser

2 bases of:
- 2 missile turret
- 2 Howitzer

Centre:
- 2 missile turret
- 1 Howitzer

Total: 587 088 / 2 996 976

Fleet:  3 580


Total: 10 225

31

3 Battle Cruiser

2 Battleship

4 bases of:
- 3 missile turret
- 1 Howitzer

4 Torpedoturrets

Centre:
- 2 missile turret
- 2 Howitzer

2,359,000 /15,009,048 

Fleet: 7,543  


Total: 31,878

37

2 Battle Cruiser

2 Battleship

1 Dreadnaught

4 bases of:
- 3 missile turret
- 1 Howitzer

4 Torpedoturrets

Centre:
- 2 missile turret
- 2 Howitzer

/

Fleet: 27 520 


Total: ~109 000

45

3 Battleship

2 Dreadnaught

4 bases of:
- 3 missile turret
- 1 Howitzer

4 Torpedoturrets

Centre:
- 2 missile turret
- 2 Howitzer

/

Fleet: 45 205


Total: ~173 000

55

5 Dreadnaught

4 bases of:
- 3 missile turret
- 1 Howitzer

4 Torpedoturrets

Centre:
- 2 missile turret
- 2 Howitzer

/

Fleet: 82 735


Total: 336  947 
Unless otherwise specified the points awarded is for a fully destroyed base.
Prize List
Edit
These missions have three prizes: First Tier at 150,000 points, Second Tier at 500,000 points, and the final Third Tier at 2,500,000 points, each prize getting better as you go up the chain. These prize tiers consist of five different Draconian blueprints, with one new Forsaken blueprint in each set, and are automatically selected for you once you reach the needed amount of points. The prizes consist of 2 armors, 1 ship, 2 weapons,a speed system and a strike system. The points do stack, meaning that once you get 150,000 points for the First Tier, you keep those points and get the 350,000 more needed for the Second Tier prizes. The prizes(Listed in order as they appear and by tier) are:
Prize Tier Breakdown
Edit
Vortex Torpedoes II
Vortex Torpedoes III
Battle Barge A (Forsaken)
Zynthonite Armor D2-E
Zynthonite Armor D2-S
Compound Panels A
Speed System I
Strike System I
Firestorm Rockets D91-S
Assault Torpedoes I
Assault Torpedoes III
Leviathan A (Forsaken)
Zynthonite Armor D3-N
Zynthonite Armor D3-T
Compound Panels C
Speed System II
Strike System II
Assault Rockets D93-S
Siege Torpedoes I
Siege Torpedoes II
Floating Fortress A (Forsaken)
Zynthonite Armor D4-X
Zynthonite Armor D4-C
Compound Panels E
Speed System III
Strike System III
Siege Rockets D95-S

The Strike System is an engine special combined with a solid fuel booster.
The Speed System is a Draconian Cross between a Forsaken engine and thruster.
The New Rockets have more splash and less spread and damage 
184.166.235.233 02:00, December 6, 2012 (UTC)Rust (Sector 322)