​

T • C
   ATTENTION : CLEANING REQUIRED !   

This Article may not meet BPWikia's Standards and may contain Outdated or Incorrect Information.
You can help by Cleaning this Article.
Overview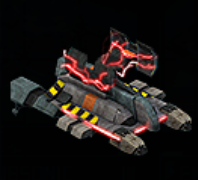 "

Reduces the speed and turn speed of nearby enemy ships

"



 

— In-game Description 
Information
Additional Facts
Gallery
Video
(Video)
Related Pages
Engine Disruptor
The engine disruptor will affect enemy ships' combat and turn capability, regardless of whether they have engine fitted or not.
Engine Disruptor
I
II
III
Ballistic Defense
20%
35%
50%
Missile Defense
20%
35%
50%
Combat Speed
+10%
+20%
+30%
Turn Speed
+5%
+10%
+19%
Armor
400
800
1200
Weight
3,000 t
4,500 t
7,500 t
Hostile
Range
66
66
66
Turn speed
-25%
-50%
-75%
Combat speed
-40%
-50%
-60%
Research
Oil
2,205,000
16,537,500
33,075,000
Metal
2,082,500
15,618,750
31,237,500
Energy
2,450,000
18,375,000
36,750,000
Zynthium
1,633,333
12,250,000
24,500,000
Time
3d 15h 33m
7d 7h 7m
14d 14h 15m
Requirements
Tactical Lab III

Tactical Lab III

Engine Disruptor I

Tactical Lab III

Engine Disruptor II

Build
Oil
Metal
Energy
Zynthium
Time
---
Hub
---
Research
Navigation Array • Engine Disruptor • Subsonic Cavitator • Microwave Dampener • Siege Scanner • Armor Bypass
---
Blueprint
Blitz Drone Module • Siege Drone Module • Piranha Drone Module • Wake Tactical Module
---