​

T • C
   ATTENTION : CLEANING REQUIRED !   

This Article may not meet BPWikia's Standards and may contain Outdated or Incorrect Information.
You can help by Cleaning this Article.
Event Overview
"

There's no turning back now, Captain. Thanks to the work of Dr. Brennus, we've proven to the Draconians that the Forsaken are a force to be reckoned with. We've kicked the hornet's nest, now it's time for the Dracs to suffer. Let's give 'em hell, Captain!

"



 

— Captain Harlock 
Drac Hunt 2, offers a new ship, the Thresher hull. This is good for missiles and rockets, as the Goliath is good for ballistics. Also, the Juggernaut is up for grabs the tier 4, so now people can have their own enormous ship (Some say it looks like a typhoon). Also, a new defensive ship weapon, the Phalanx Anti-Missile is, as in the name, a weapon that shoots out missiles, as the Hail/Hellstorm shoot out mortars. The third and last tier of this fine weapon is a hard decision, between the Juggernaut hull. If, however, you choose the last tier of this weapon, you can imagine having the Triton hull (Last prize from Drac Hunt 1, 10 weapon slots!) and put on 5 Hailstorm Anti-Mortar and 5 Phalanx Anti-Missiles attached to it, so it basically ensures that 2 weapon varieties can do little to no damage to your fleet! Happy hunting, Pirates!
Event Information
SCHEDULED EVENT DATES
START TIME
00:00 PST
Depending on the Sector
END TIME
00:00 PST
Depending on the Sector
START DATE
March 21, 2013
Depending on the Sector
END DATE
Month Day, Year
Depending on the Sector
GENERAL EVENT INFORMATION
EVENT TYPE
Attack

Sink as many Military Fleets as possible 

ANTAGONIST
Draconian
Lead by Dr. Brennus
DURATION OF EVENT
total day of event
Event Store open additional 48 Hour
Event Prizes
Thresher
Juggernaut
Phalanx Anti-Missile
Related Links
Quotes
"

Dr. Brennus's hard work has led to another breakthrough in Forsaken technology - the Thresher Hull. This fast strike vessel appropriates Draconian technology for unprecedented rocket performance. Fight well and it could be yours. Best of luck, Captain!

"



 

— Captain Harlock 
"

Drac Hunt 2 has begun! Deploy forces to sink Drac Military fleets stationed around Draconian bases. Check out the video above for more information. Give 'em hell, Captain!

"



 

— Captain Harlock 
"

Drac Hunt 2 is underway! Sink as many Military Fleets as possible and the Thresher Hull could be yours. Best of luck, Captain!

"



 

— Captain Harlock 
"

Draconian Military fleets are terrorizing the seas! Watch this Captain handle enemy forces without breaking a sweat.

"



 

— Captain Harlock 
"

How has the new Thresher Hull most helped you, Captain?

"



 

— Captain Harlock 
Fun Facts
The second event that featuring the Dr. Brennus after Drac Hunt .
Gallery
Video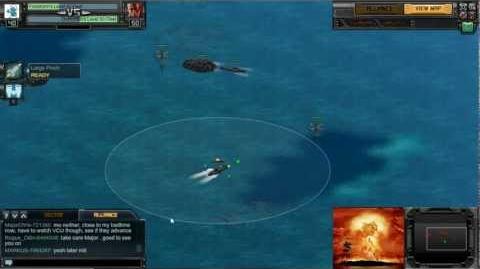 ---
HUB
---
REVENGE RAID SERIES
Revenge Raid • Revenge Raid II • Revenge Raid III • Revenge Raid IV
---
BASE INVADERS SERIES
Base Invaders • Base Invaders II • Base Invaders III • Base Invaders IV • Base Invaders V • Base Invaders VI
---
STORM SERIES
Storm Warning • Storm Strike • Storm Force
---
LIGHTNING SERIES
Lightning Run • Lightning Raid • Lightning Fall
---
DRAC HUNT SERIES
Drac Hunt • Drac Hunt 2 • Drac Hunt 3 • Drac Hunt 4
---
DRAGON's SERIES
Dragon's Nest • Dragon's Nest 2 • Dragon's Grip • Dragon's Grip 2
---
FORSAKEN FURY SERIES
Forsaken Fury • Forsaken Fury 2
---
BURNING SEA SERIES - (Reaver Introduction)
Burning Seas • Trial by Fire • Infernal Onslaught • Reign of Fire
---
WARZONE SERIES - (Reaver vs. Dracs)
Riptide • Deathstroke • Tempest • The Reckoning
---
ARCTIC SERIES
Snowblind • Frostbite • Whiteout • Hailstorm • Avalance
---
Ad blocker interference detected!
Wikia is a free-to-use site that makes money from advertising. We have a modified experience for viewers using ad blockers

Wikia is not accessible if you've made further modifications. Remove the custom ad blocker rule(s) and the page will load as expected.