T • C
   ATTENTION : CLEANING REQUIRED !   

This Article may not meet BPWikia's Standards and may contain Outdated or Incorrect Information.
You can help by Cleaning this Article.
Overview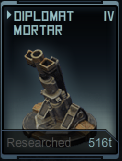 Stats
Diplomat Mortar Stats
Diplomat Mortar
Level I
Level II
Level III
Level IV
Range
40 - 85
40 - 85
40 - 85
40 - 85
Damage
100
156
240
304
Reload Time
6.0s
6.0s
6.0s
6.0s
Damage Per Second
16.67
26
40
50.67
Type
Explosive
Explosive
Explosive
Explosive
Splash
10
10
10
10
Spread
80
80
80
80
Weight
105 ton
179 ton
303 ton
516 ton
Research
Research Requirements

Weapons Lab 5

Rapier IV

Research Time
10h 30m 0s
1d 7h 30m
Research Oil
568,750
2,843,750
Research Metal
291,200
1,164,800
Research Energy
291,200
1,164,800
Research Zynthium
195,081
682,784
Build
Build Time
21m
47m
Build Oil
3,792
18,958
94,792
473,958
Build Metal
3,033
12,133
48,533
194,133
Build Energy
3,033
12,133

48,533

194,133

Build Zynthium
2,654
9,290
32,514
113,797
Information
The third unlocked weapon type, Diplomat Mortars are very slow to fire, but have a very high damage to weight ratio. Best described as 'one shot only', it's unlikely a Diplomat Mortar will get in many shots before the end of a battle. They are described as "high-arching explosive mortars". They are probably best used while the enemy is in pursuit and you are "running away," also known as "kiting".
Eventually, around L50 or so, a player will want to use D73-X mortars against fleets and forget they even heard of (nearly useless) Diplomats.
Additional Facts
Gallery
Video
Related Pages
Ad blocker interference detected!
Wikia is a free-to-use site that makes money from advertising. We have a modified experience for viewers using ad blockers

Wikia is not accessible if you've made further modifications. Remove the custom ad blocker rule(s) and the page will load as expected.