---
Overview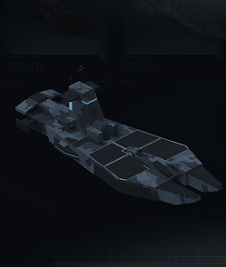 "

Powerful high-level Draconian Hull that's automatically resistant to cannon fire and comes equipped with Sonar. Also includes plenty of weapon and armor slots, including space for underwater weapons.

"



 

— In-game Description 
Stats
Weapon Slots
4 (hybrid)
Armor Slots
3
Armor Points
815
Special Slots
3
Max Weight
3,040 tons
R9 : 5,040 tons
Cargo
45,019
R1 : 765,246
Evade Bonus
10%
R5 : 20%
R7 : 30%
Combat Speed
12
R2 : 13
Turn Speed
20
Map Speed
20
R2 :25
Detection Range
50
R3 : 65
Thermal Imagiing
R10 : 75
Ballistic Defense
+ 40%
Explosive Defense
+ 20%
Missile Defense
+ 20%
R6 : 35%
Accuracy
R4 : 20%
R7 : 40%
Concusive Defence
R5 : 20%
R10 : 40%
Radioactive Defence
R8 : 30%
Underwater Weapon
Yes
Refit-able
Yes
Build
Time
1d
Oil
1,562,500
Metal
1,250,000
Energy
1,250,000
Zynthium
3,125,000
Related Pages
Information
The Battlecruiser is a light-moderately armoured, fairly fast ship that has a high resistance to ballistic weapons and can equip underwater weapons in all its slots. It's extra detection range allows it to be a great sub hunter as well.
It can serve many roles as base blitzers or fleet blitzers, which are fast ships with cannons that have high dps and good range.
It can also be the most useful ship to use in sub-hunting, as the Stalker Submarine with similar detection range lacks in speed, firepower, and technology applications
This hull was rewarded to the top resource collector during Revenge Raid III - Hull Heist event.
Additional Facts
The Battlecruiser was made available for players who traded in 2.5 million points for this hull during Base Invaders VI, 2.25 million points during Storm Warning, and 3.5 million points during lightning Raid Event.
A notable feature of this hull is that it has a built-in submarine detection range of 50.
The built-in submarine detection range of 50 makes the Battlecruiser  particularly useful for hunting subs.
Sonar specials from the Advanced Lab may be added in a special slot, increasing the detection range.
In early 2013, it became available as a tier 2 prize in the weekly raids.
The ship has been enhanced with its anti-sub role a bit more clearly by converting all four weapon slots into underwater-capable weapon slots, doubling its built in sonar range, and increasing its maximum tonnage by 1000 tons.
Retrofit rep cost to be added shortly
Gallery
Video
(Video)
---
HUB
---
Gunboat • Skirmisher • Longship • Marauder • Predator Submarine • Battle Barge • Arbiter • Leviathan •
Sea Wolf • Stalker Submarine • Sea Scorpion • Floating Fortress • Hammerhead
---
Battle Barge A • Leviathan A • Sea Scorpion A • Floating Fortress A • Hammerhead A • Hammerhead B • Barracuda • Goliath • Spectre • Super Fortress • Hurricane • Triton • Harlock's Triton • Thresher • Mercury • Stingray • Zoe's Stingray • Mauler • Vanguard • Mako • Rampart • Vindicator • Sawfish • Atlas Carrier • Harlock's Atlas Carrier • Lightning Carrier • Nash's Lightning Carrier • Avenger
---
Corvette • Frigate • Destroyer • Destroyer X • Destroyer ECM • Light Cruiser • Light Cruiser X • Battlecruiser • Battlecruiser X • Battleship • Juggernaut • Juggernaut X • Strike Cruiser • Strike Cruiser X • Missile Cruiser • Missile Cruiser X • Interdictor • Vassago's Interdictor • Viper Interdictor • Dreadnought • Dreadnought X • Spader's DNX • Reaper • Guardian • Nuclear Cruiser • High-Lander's Nuclear Cruiser • Greta's Nuclear Cruiser • Enforcer • Nighthawk • Phantom Nighthawk
---
---
---
Hellstrike • Berserker • Grimshine's Berserker
---
Reaver Mothership • Reaver Defense Hulk • Reaver Scout • Reaver Mothership Drone •
Charon • Elite Salvage • Rad Shockwave
Ad blocker interference detected!
Wikia is a free-to-use site that makes money from advertising. We have a modified experience for viewers using ad blockers

Wikia is not accessible if you've made further modifications. Remove the custom ad blocker rule(s) and the page will load as expected.