Home
Talk

26
436pages on
this wiki
Welcome to the Battle Pirates Wiki
Battle Pirates Wiki was created on 10:20, December 16, 2010, by Pro Man and is a collaboratively edited, multilingual, free Internet encyclopedia. Battle Pirates Wiki's articles are written collaboratively by volunteers around the world. Almost all of its articles can be edited by anyone having access to the site. The open nature of Battle Pirates Wiki has led to various concerns, such as the quality of writing, the amount of vandalism, and the accuracy of information. Some articles contain unverified, outdated or inconsistent information although a lot of effort goes to keeping them up to standard.
This wiki is not owned by Kixeye and we're not the Kixeye staff, hence these Copyright notes.
We recommended you to read our Rules & Policies or you may get banned if you violate them.
If you have found a user or users who violated the Rules & Policies, please report it to Battle Pirates Wiki Admin for further action.
Notes: This is a work in progress, if you find something missing, have an edit, or want to add in some thoughts of your own, please do so, just double check your edits!
Featured Wiki News
Kixeye has recently changed either Construction Time, Range, and Damage to 120 Weapons. So a lot of Information on our pages will be incorrect.
Kixeye has reduced the Research and Build times for all Researched Technology. So a lot of Research and Build times on our pages will be incorrect.
We will do our best to update these changes, Sorry for any inconveniences.
Featured Game News

Game Updates:

---
Battle Pirates Release Notes - 7/1/14
This weeks release includes the much anticipated new Shipyard UI screen as well as a set of bug fixes and tuning.
---
July Works in Progress - 7/1/14:
Coming Features:
---
Battle Pirates Release Notes - 6/24/14
This week's release includes improvements to the Dredge Fleet / Uranium system.
Additionally we've released a few bug fixes and tuning tweaks.
---
Battle Pirates Release Notes - 6/17/14
This weeks release includes, the much anticipated Campaigns System, the Weapon Component rebalance, as well as Retrofit Pack 7. (Reaper, Mako, Strike Cruiser X).
---
Campaigns are live!
There are currently eight playable Campaigns with both old and new technology available to claim. Campaigns for which you have unlocked all prizes will be marked as completed, so you'll only be able to run Campaigns for which there are prizes available for you to win.
---
Battle Pirates Release Notes - 6/2/14:
This week's release includes the much anticipated, Transparent Combat HUD. In addition, we've also made a change to Free for All PvP, as well as a few bugfixes and tuning.

---
Our UI Team is at it again! - 5/28/14:
Our super awesome UI team is at it again. With the tweaks to transparent HUD completed they set their sites on updating our Shipyard UI. That UI element was beginning to look a little dated, and information about what you were building could get lost in the small windows. So they took a stab at updating the UI so that all the information about a ship that you're building is more readily visible.

New Blueprints Available:

---
---
Battle Pirates Release Notes - 6/24/14
Three new prizes to earn in Forsaken Missions. New Blueprints Available:
Gauss Supercharger, a ship special that decreases the required amount of flechettes to release a shockwave.
Upcoming Blueprints:

About Battle Pirates
The year is 2067 and Earth is covered in water. Survivors are split into two factions: The Forsaken and the oppressive Draconian Empire.
Design an island fortress with up to 85 land tiles at your disposal.
Place defensive platforms in range of combinations to deter NPC and player attacks.
Engage in real-time synchronous PvP and NPC combat.
Research new technologies and mix and match armor, weapons and hulls to create more than 50 ships.
Scavenge for survival by attacking other players Outposts.
Collect Blueprints and advance technologies.
Advance your position in one of 500 Sectors on the World Map.
Play it now, either on Facebook or Kixeye!
Affiliates:
Offical Battle Pirates Facebook Page
Next Raid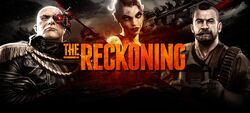 The Reckoning has ended!
For more information, see the Events page.
---

The next Forsaken Mission starts in July 23 2014 9:00:00 -0700! Forsaken Missions has started!
Click Here for the prizes!
Wikia Polls
What did you think of The Reckoning Raid?
Do you feel the new releases are greatly outbalancing the game?