Ad blocker interference detected!
Wikia is a free-to-use site that makes money from advertising. We have a modified experience for viewers using ad blockers

Wikia is not accessible if you've made further modifications. Remove the custom ad blocker rule(s) and the page will load as expected.
---
Overview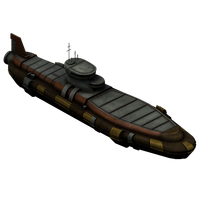 "

A next generation Battle Barge, with increased cargo capacity, armor, and speed.

"



 

— In-game Description 
Stats
Version
Battle Barge A
Attributes Upgrades
Weapon Slots
4
Armor Slots
2
Special Slots
2
Armor Points
535
Max Weight
1,397 tons
Cargo
225 000 tons
R1 : 450k
Evade Bonus
-10%
R2 : 0%
Combat Speed
13
R3 : 14
Turn Speed
17
Map Speed
30
Missile Def
R4 : 40%
Ballistic Reload
R5 : 39%
Underwater Weapon
No
Refit-able
Yes
Retrofitable
Yes
Research
Requirements
*Naval Lab 6




Marauder

Forsaken Mission Reward

Battle Barge research

Time

-

Oil

-

Metal

-

Energy

-

Zynthium

-

Build
Time
7h 30m 00s
Oil
181,228
Metal
108,737
Energy
90,614
Zynthium
67,960
Related Pages
Additional Facts
The Battle Barge A (BBA) cannot be researched, but has been offered as a random prize during the weekly Forsaken Missions.
The Battle Barge A Hull was rewarded to players trading in 200K points for it in Dragon's Nest 2.
Gallery
Video
(Video)
---
HUB
---
Gunboat • Skirmisher • Longship • Marauder • Predator Submarine • Battle Barge • Arbiter • Leviathan •
Sea Wolf • Stalker Submarine • Sea Scorpion • Floating Fortress • Hammerhead
---
Battle Barge A • Leviathan A • Sea Scorpion A • Floating Fortress A • Hammerhead A • Hammerhead B • Barracuda • Goliath • Spectre • Super Fortress • Hurricane • Triton • Harlock's Triton • Thresher • Mercury • Stingray • Zoe's Stingray • Mauler • Vanguard • Mako • Rampart • Vindicator • Sawfish • Atlas Carrier • Harlock's Atlas Carrier • Lightning Carrier • Nash's Lightning Carrier • Avenger
---
Corvette • Frigate • Destroyer • Destroyer X • Destroyer ECM • Light Cruiser • Light Cruiser X • Battlecruiser • Battlecruiser X • Battleship • Juggernaut • Juggernaut X • Strike Cruiser • Strike Cruiser X • Missile Cruiser • Missile Cruiser X • Interdictor • Vassago's Interdictor • Viper Interdictor • Dreadnought • Dreadnought X • Spader's DNX • Reaper • Guardian • Nuclear Cruiser • High-Lander's Nuclear Cruiser • Greta's Nuclear Cruiser • Enforcer • Nighthawk • Phantom Nighthawk
---
---
---
Hellstrike • Berserker • Grimshine's Berserker
---
Reaver Mothership • Reaver Defense Hulk • Reaver Scout • Reaver Mothership Drone •
Charon • Elite Salvage • Rad Shockwave