Overview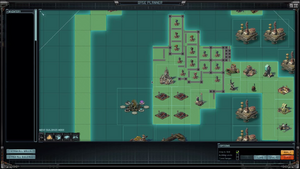 "

A good base design is essential to your defense! Access base planner to modify and save your base layout at any time!

"



 

— Kixeye 
Information
The Base Planner allow players to edit and modify their base designs in a more intuitive and efficient manner.
There are a number of features within the Base Planner that will allow players to edit their base designs.
Base Planner - your tool to completely change up your layout in a matter of minutes.
Whether you're preparing for an incoming invasion or just want some new scenery, the Base Planner is the perfect tool!
Additional Facts
Keyboard Shortcut Commands - Players will now be able to use keyboard shortcuts to undo, redo and save their Base Planner designs.
Wall Improvements - Players will now be able to draw walls from other walls instead of having to click adjacent to them.
In-Game Quotes
Related Pages
External Links
Gallery - Animated
Maximum GIF size is 300px x 300px.
Gallery
Images may have been resized to fit in the page. Click on an image to enlarge.
Video
02:15

Battle Pirates Tutorial Basic Base Design

03:33

Battle Pirates Base Planner
Coming Soon!
Ad blocker interference detected!
Wikia is a free-to-use site that makes money from advertising. We have a modified experience for viewers using ad blockers

Wikia is not accessible if you've made further modifications. Remove the custom ad blocker rule(s) and the page will load as expected.