Battle Pirates (BP) is a MMORTS - a Massively Multiplayer Online Real-Time Strategy game you can play through Facebook -> https://apps.facebook.com/battlepirates/ or directly on Kixeye -> http://www.kixeye.com/game/battlepirates. It features real-time battles against other players in which you can attack bases or go head to head in Fleet vs. Fleet. The game includes a high level of strategy in constructing fleets, gathering resources, and researching new technologies. There is no pause or suspend button in BP -- it goes on and on and on, 24/7/365.
Welcome to the Battle Pirates Wiki! This is a work in progress, if you find something missing, have an edit, or want to add in some thoughts of your own, please do so, just double check your edits!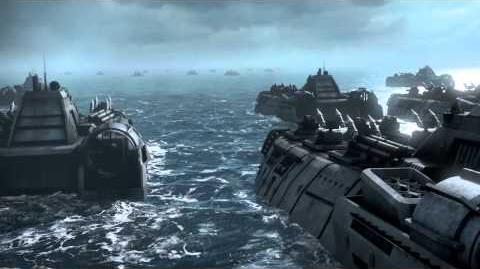 News
Game Updates

Events

Detailed current and historical updates, announcements, and changes to the game.

Breaking News!

Due to popular demand the number of fleets available has been increased from 10 to 12. As of 6/12/13 The Kixeye crew is aware of and working on the new glitches that came with the Rogue Crews update. See the Updates page for more information!

Events include Raids and Forsaken Missions that players can participate in to gain access to special ships, weapons, armor and more.

Next Raid?

The last Raid began 27th June, 2013. The next Raid - perhaps July 18 or July 25? See the Events page for more information!
Build an island fortress, customize deadly ships, and rule the high seas in the most epic MMORTS on Facebook!
Engage in synchronous naval combat with 12 fully-customizable battle ships
Battle friends and enemies alike for supremacy of the high seas
Strategic, real-time, player-vs-player battles
Immersive environments and eye-popping graphics
Monthly in-game events
Game Play
Basics
Building Up
| | |
| --- | --- |
| Building Your Base | Researching New Technologies |
| | |
Ships
| | |
| --- | --- |
| Ship Components | Ship Design |
| | |
Combat
Extras
Wiki Activity
Ad blocker interference detected!
Wikia is a free-to-use site that makes money from advertising. We have a modified experience for viewers using ad blockers

Wikia is not accessible if you've made further modifications. Remove the custom ad blocker rule(s) and the page will load as expected.