Description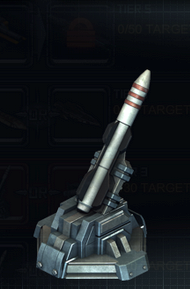 "

The long-range defense missle that splits into multiple warheads to blanket an area with splash damage.

"



 

— In-Game Description 
Stats
| Arc Missile | I | II | III |
| --- | --- | --- | --- |
| Splash | 16 | 16 | 16 |
| Spread | 40 | 40 | 40 |
| Range | 40-110 | 40-115 | 40-120 |
| Damage | 100 | 222 | 2000 |
| Reload Time | 12 | 12 | 12 |
| Explosive Damage | 10 | 22 | 200 |
| Penetrative Defense Bypass | | | 85% |
Build
| Arc Missile | I | II | III |
| --- | --- | --- | --- |
| Build Time | | | 4d 12h 0m 0s |
| Oil | | | 9,525,310 |
| Metal | | | 7,620,248 |
| Energy | | | 7,620,248 |
| Zynthium | | | 15,240,496 |
Information
The Arc Missile Turret is a smaller and more compact version of the Halo Missile. Just like the Halo Missile, Arc Missiles will benefit from Scramjet Engines. This Base Weapon requires a blueprint to build.
Additional Facts
Gallery
Video
(video)
Related Pages
---
Hub
---
Research
Howitzer Cannon • Sentinel Missiles • Flak Gun • Bombard Rockets • Victory Mortar • Cerberus Rockets
---
Blueprint
Javelin Rail Gun • Disruptor Cannon • Vulture Missiles • Meteor Mortar
Arc Missiles • Halo Missile • Brimstone Missile • Napalm Missile • Wendigo Turret
---
Ad blocker interference detected!
Wikia is a free-to-use site that makes money from advertising. We have a modified experience for viewers using ad blockers

Wikia is not accessible if you've made further modifications. Remove the custom ad blocker rule(s) and the page will load as expected.