Ad blocker interference detected!
Wikia is a free-to-use site that makes money from advertising. We have a modified experience for viewers using ad blockers

Wikia is not accessible if you've made further modifications. Remove the custom ad blocker rule(s) and the page will load as expected.
ARBITER
HULL DESCRIPTION
A high tech hull capable of supporting Tactical Modules.
ASSOCIATED BUILDING
HULL GROUP
Hulls
<< Prev
( T )  •  ( C )
Next >>
Stats
Weapon Slots
1
Armor Slots
2
Armor Points
562
Special Slots
2
Max Weight
12,000 Tons
Cargo
145,000 Tons
Evade Bonus
10%
Combat Speed
12
Turn Speed
14
Map Speed
30
Underwater Weapon
Yes
Refit-able
Yes
Research
Requirements
Level 7 Naval Lab
Time
2d 2h
Oil
1,263,324
Metal
1,010,659
Energy
1,010,659
Zynthium
1,263,324
Build
Time
10h
Oil
475,923
Metal
285,554
Energy
237,962
Zynthium
297,452
Information
The Arbiter is the 8th re-searchable hull after the Battle Barge .
Additional Facts
The Arbiter is the only re-searchable ship that comes with a Tactical Module Slot.
Its full load-out includes 1 weapon slot, 2 armor slots, 2 special slots, and 1 Tactical Module Slot.
However, due to its low combat potential (only 1 weapon slot), most players only use one ship per fleet, usually as the flagship. Typically, players fit the ship's only weapon slot with defensive weapons.
This ship however, has very good speed and is excellent for both offensive and defensive use.
Modules commonly used are the Engine Disruptor, the Microwave Dampener, the Blitz Drone Module, the Siege Drone Module or the Piranha Drone Module. 
Tactical modules give the Arbiter extra armor points, ranging from 500 to 14,000. 
Related Pages
External Links
Gallery - Animated
Maximum GIF size is 300px x 300px.
Gallery
Images may have been resized to fit in the page. Click on an image to enlarge.
Video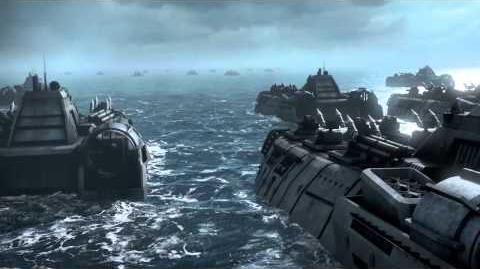 ---
HUB
---
Gunboat • Skirmisher • Longship • Marauder • Predator Submarine • Battle Barge • Arbiter • Leviathan •
Sea Wolf • Stalker Submarine • Sea Scorpion • Floating Fortress • Hammerhead
---
Battle Barge A • Leviathan A • Sea Scorpion A • Floating Fortress A • Hammerhead A • Hammerhead B • Barracuda • Goliath • Spectre • Super Fortress • Hurricane • Triton • Harlock's Triton • Thresher • Mercury • Stingray • Zoe's Stingray • Mauler • Vanguard • Mako • Rampart • Vindicator • Sawfish • Atlas Carrier • Harlock's Atlas Carrier • Lightning Carrier • Nash's Lightning Carrier • Avenger
---
Corvette • Frigate • Destroyer • Destroyer X • Destroyer ECM • Light Cruiser • Light Cruiser X • Battlecruiser • Battlecruiser X • Battleship • Juggernaut • Juggernaut X • Strike Cruiser • Strike Cruiser X • Missile Cruiser • Missile Cruiser X • Interdictor • Vassago's Interdictor • Viper Interdictor • Dreadnought • Dreadnought X • Spader's DNX • Reaper • Guardian • Nuclear Cruiser • High-Lander's Nuclear Cruiser • Greta's Nuclear Cruiser • Enforcer • Nighthawk • Phantom Nighthawk
---
---
---
Hellstrike • Berserker • Grimshine's Berserker
---
Reaver Mothership • Reaver Defense Hulk • Reaver Scout • Reaver Mothership Drone •
Charon • Elite Salvage • Rad Shockwave